40 Christian Good Morning Messages — Inspirational God Quotes
Christian Good Morning Messages: Exchanging heartfelt good morning messages with friends, family, and other people you hold dear can be an intimate and uplifting way to start the day. Christian good morning messages are the ideal vehicle through which to convey your hopes that the recipient will be showered with divine favor and success throughout the day. Not only does the act of sending Christian good morning greetings help spread the message of peace and joy, but it also helps strengthen the connection that we have with Jesus Christ. Only when we put our faith in the Lord Almighty and seek refuge in his blessings can we have a beginning to our lives that has any real significance. So shower your friends, partner, or family with God's heavenly grace with religious good morning messages!
Christian Good Morning Messages
No matter how distant you feel, God is in your midst. Therefore, go out in boldness and confidence to tackle this day with courage.
It is a good morning. Start your day with prayers of thanksgiving because this is the day the Lord has made. Let us rejoice and be glad!
On this bright morning, may that peace that surpasses all understanding keep your heart and mind in Christ Jesus, this day and forevermore.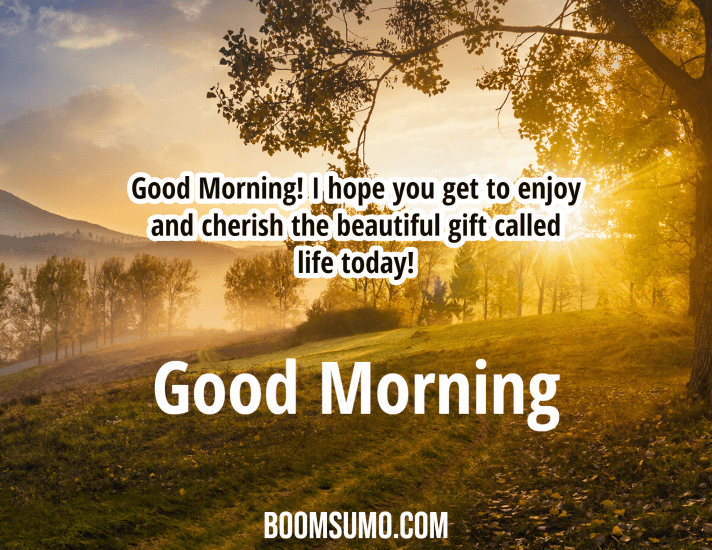 I hope and pray that you find peace, joy, and comfort in God's merciful embrace. May you be strengthened by the joy of his salvation, even this very morning.
Christ is always present, even this morning. Let his benevolent hand guide you this day, so that you may flourish as he has planned for you. Have a great day.
When all hope seems lost, God gives us another morning. My prayer is that today is filled with endless joy. May God's spirit keep you steadfast in Christ Jesus.
As you begin today's tasks, I pray that God's holy angels will watch over you and keep you this day also. Go in peace and serve the Lord throughout this day.
Good morning to you. God loves you, my dear child. Come to him and trust him with all your heart. May he embrace you and pour forth his blessings upon you today.
We serve a God who blesses all people through his abundant grace. We experience his love because he first loved us. This wonderful morning, go and make him known.
Your promise, O Lord, is like the dawn of the day that never fails to shine. My Lord and my Savior, I trust in you. Have a good morning, and know I am thinking of you.
Christian Good Morning Messages for Him
Each day may seem the same to us, but with God, each day is unique. Remember this morning is a wonderful gift given to you by our God almighty. Go live in his joy.
The blessing of the Lord is upon us every day as light dawns for the righteous, and joy for the upright in heart. Have a good morning, and know I am thinking of you.
Beloved, I pray that all may go well with you and that you may be in good health, just as it is well with your soul. Blessings and prayers on this morning he has given to us.
Success is not about getting yourself heard but letting the voice of God and his love be heard through you. You are a success and his treasured child. Have an amazing morning!
As you rise today out of bed, meditate on the bitter sufferings that our Lord endured. Rejoice and give thanks that he has saved you, and go into the world in the peace of God.
This morning, be comforted and assured that God has heard your cries. For he is near to the brokenhearted, and a bruised reed he will not break. Be still, and know that I am God.
I understand the deep sorrow you're going through. Be not afraid, however, for our Lord has truly borne our sorrows and shared our iniquities. Go in peace given to you in Christ.
Be faithful. Be courageous. His grace is enough. God pours forth his abundant grace every step of the way, to bring goodness to those who love him. I hope you have a good morning.
Start the day with prayers. Live the day with effort. End the day with gratitude. Be aware of God's presence in your heart at all times. Have a good morning, and know I am thinking of you.
May the Lord bless us today so that we faithfully seek his plans; his plans for peace, not for disaster, to give us a future and hope. May God bless you in all you do this morning and today.
Sometimes our lives get so difficult that we cannot see the good in them. Yet, God is always near in our suffering. Each morning is a little resurrection. May today be a day of redemption for you.
Good morning, to you. As I open my eyes every morning, I give thanks to the Lord, for he has given me the greatest gift of all, a token of his unquenchable love. May God's love always shine upon you.
Good morning to you. Don't forget to do at least one good deed today. Let us not become weary in doing good. One smile, one simple gesture, or one kind word done with love, is a work of heavenly grace.
Embrace this day as the Lord's gracious gift, so that you may continue to grow through trials and tribulations. Suffering produces endurance, character, and hope. Good morning and have a blessed day.
Christian Good Morning Messages for Her
God is listening. He has given you another day, not as an obligation, but as a gift of grace. This morning, know that you are his child, that you may continue to grow in your faith unto life everlasting.
Come to the Lord with empty hands and an open heart, and he will provide you with all your needs and abundant grace. I wish you a good morning and an even better day when you feel full of his plentiful grace.
"Peace I leave with you; my peace I give to you." May the peace of the Lord be with you always and fill your heart with joy. My wish for you is that you have a good morning and feel his tranquility in your soul.
This is the day that the Lord has made; I will rejoice and be glad in it. As we know God works all things for good, let our Lord grant to you this day all joy, peace, and gladness through his most abundant spirit.
Rejoice and be glad, for God has kept you all night from all harm and danger. He has preserved you in mind, body, and soul, and has blessed you to see yet another day. Be filled with joy on this beautiful morning.
Keep up your spirit. The Lord renews your strengths every day so that you will soar on eagle's wings; you will run and not grow weary; you will walk and not grow tired. May your morning be a beautiful reminder of His love.
Taste and see the goodness of God that allows us to welcome this new day, shining with the rays of his love. Be grateful because what God has given us far exceeds our imagination and expectation. Have an amazing morning feeling the warmth of his love.
New hope dawns with the rise of this new day. Those who put their hope in the Lord will never be let down because the Lord is our light and our salvation; the Lord is the stronghold of our lives. My wish for you is that you have a good morning and an even better day.
Christian Good Morning Messages for Friends
In the evening of life, you will be examined in love. Therefore, let us live in love and for love; let us love one another as the Lord has loved us; let us repay his love with all our might because love can only be repaid by love alone. Have a blessed morning, my friend!
We don't complain about our weaknesses. We don't boast about our strengths, because we can do all things through Christ who strengthens us every morning, every day, and every moment of our lives. He has given you this day, and it is yours. Let us rejoice and be glad together.
From the rising of the sun to its setting, the name of the Lord is to be praised. Therefore, may the sun's rays shine upon you and be gracious unto you, just as God's face shines upon the face of the Earth. May its warmth bring you comfort and security on this sacred morning.
The rising sun is a wonderful example of God's faithfulness. We can always be sure that the sun will rise and a new day will begin. So also can we look toward the future, where God will come in glory to transform our world? May you live today in light of his promise to come again.
At the beginning of each day, may the Lord bless you and keep you; may the Lord make his face shine upon you, and be gracious to you; may the Lord lift his countenance upon you, and give you peace. Have a good morning, and may your heart be filled with his spirit all day long.
Good morning to you! Leave your worries about yesterday behind you. Today is a new day to praise the Lord. Do not worry about anything, but in everything by prayer and supplication with thanksgiving, let your requests be made known to God. Glorify him and love him in everything you do.
In the beginning, God walked in the garden of his creation in the cool of the evening. Yet, our Lord Jesus was mistaken for a gardener on the dawn of the day of his resurrection. God inaugurated a new creation in the early hours of the day. Wishing that your day is every bit as joyous as that first Easter sunrise.
Another day has come. By God's grace, we are blessed to see the sun just above the horizon. As the sun rises, may it remind you of our everlasting hope that we will rise again on the last day amid the all-consuming love of God. Rejoice and be filled with the abundant joy of the hope of the resurrection throughout this day.
Inspirational Good Morning Greetings For God Spiritual
May the glory of your greatness shine forth as brightly as the sun does in the sky. May blessings and mercy be with you always. I hope that your life is filled with beauty. Have a nice morning.
I pray that the Lord directs each and every one of your steps. Your path may be illuminated by His light. I pray that all of your perplexing questions find resolution through Him. Have a nice morning.
I pray that the Lord will expand your territory today. And as He does so, may He enlarge your ability to receive the blessings that will come in abundance afterward. Have a nice morning. I hope you enjoy your day.
Because I get to experience life with you, it has a greater meaning and beauty for me. When I consider everything that I have to be thankful for, you are always at the top of the list. I want you to understand how much I appreciate you. You are one of a kind, and I couldn't love you more. I hope you enjoy your day. Have a nice morning.
I hope that today brings you every blessing that your heart could possibly desire. May you know no shame. I wish happiness and joy for you to fill your heart. Have a nice morning.
I pray that you find solace in every possible way. I pray that you find grace in the midst of the ashes. I pray that all of your tears will be dried up and that your mouth will be filled with praise. I pray that the joy that is in my heart overflows into yours. Have a nice morning.
Getting one's day off to a good start by filling oneself with the spiritual energy and peaceful serenity of the morning gives one the desire to go through the rest of the day with strength, compassion, and patience! The sending of Christian good morning texts is an effective way to ensure that each day gets off to a positive start. Therefore, bless the people you care about with heartfelt appreciation and affection by sending them some distinctive Christian good morning greetings. Check out the section below if you are seeking some religious ways to wish a Christian a good morning that is guaranteed to put a smile on their face right away. You can share powerful Christian good morning messages and sayings to send a friend or loved one daily.
Subscribe to Blog via Email